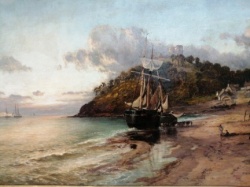 Edwin Hayes RHA RI (1820-1904) 'Criccieth Coast 1880'£9,450.00
One of Ireland's most famous marine artists and a beautiful large oil on canvass in an incredible original and historic Victorian frame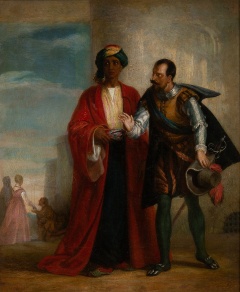 Solomon Alexander Hart RA (1806-81) 'Othello & Iago'£8,750.00
Famous Oil painting exhibited at The Royal Academy in 1855 and The International Exhibition 1862. His last work sold for £137,542!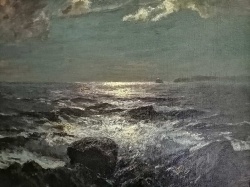 Julius Olsson RA (1864-1942) ' Moonlit waves on the shore with Godrevy Lighthouse, St.Ives,.'£6,750.00
Incredible provenance on this amazing moonlight oil painting previously owned by Harold Wilson,Baron Wilson of Rievaulx!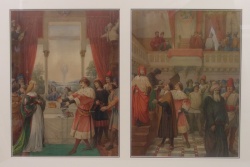 Edward Jakob Von Steinle (1810-86) 'The Right Casket & The Outcome of the Court Session'£2,750.00
Historic twin watercolour set from Austrian artist Edward Jakob Von Steinle (1810-86) exhibited at The World Expo in Vienna 1873 (over 7 million visitors!) where it was purchased by Julius Beer, owner of The Observer newspaper. Two scenes from Shakespeare's Merchant of Venice.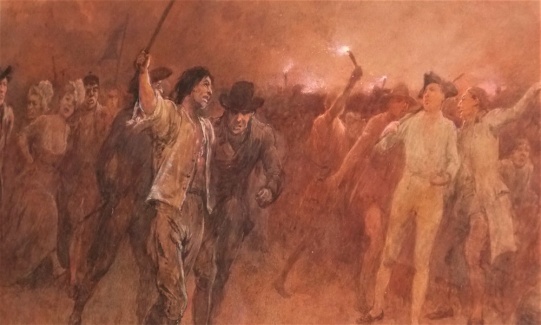 Charles Green (1840-1898) 'The Gordon Riots' (1896)£1,850.00
Believed to be the finest atmospheric painting ever made of the Gordon Riots 1780!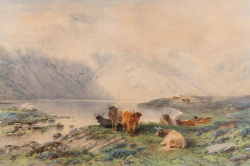 Frederick Tucker (1860-1935) 'Highland cattle resting£1,250.00
Large beautiful Victorian Fred Tucker watercolour in stunning new frame!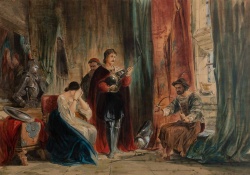 George Cattermole 'Preparing for a duel'£975.00
Really detailed watercolour from one of the famous Cattermole school of Victorian family artists!