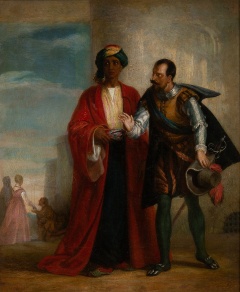 Solomon Alexander Hart RA (1806-81) 'Othello & Iago'£8,750.00
Famous Oil painting exhibited at The Royal Academy in 1855 and The International Exhibition 1862. His last work sold for £137,542!
Sherree Valentine Daines (b1959) 'Spring Shade'£5,750.00
A very charming and rare large early oil painting (when she was 24) from one of the UK's current hottest contemporary artists and one of the main faces of modern impressionism in Britain!!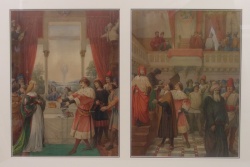 Edward Jakob Von Steinle (1810-86) 'The Right Casket & The Outcome of the Court Session'£2,750.00
Historic twin watercolour set from Austrian artist Edward Jakob Von Steinle (1810-86) exhibited at The World Expo in Vienna 1873 (over 7 million visitors!) where it was purchased by Julius Beer, owner of The Observer newspaper. Two scenes from Shakespeare's Merchant of Venice.